Recently I posted the
first item
in this series about stamps related to Alabama. That one featured some of Alabama's great African-Americans; others are below. Subsequent posts will be devoted to other topics and people.
More about U.S. stamps and postal history can be found here.
The "Queen of the Blues" was born in Tuscaloosa in 1924 and died in 1963. She was one of the most popular black female singers of the 1950's. Washington has been inducted into both the Alabama Jazz Hall of Fame and the Rock & Roll Hall of Fame.
Issued June 16, 1993
Cole
, who died in 1965, was a popular figure in American music during the 1940's and 1950's. Born in Montgomery, this jazz composer, pianist and singer entered the Alabama Jazz Hall of Fame in 1985 and the Rock & Roll Hall of Fame in 2000. He was the first African-American in the United States to host his own network television show that ran on NBC in 1956 and 1957.
Issued September 1, 1994
Known as the "Brown Bomber," Joe Louis is considered one of the greatest heavyweights to ever enter the ring. In the 1930's he and another of the state's great athletes, Jesse Owens, demonstrated to Hitler that the "Aryan race" was not invincible.
Issued June 22, 1993
Paige
was a dominating pitcher in the Negro baseball leagues and late in his career pitched in the Major Leagues. He appeared in more than 2500 games, including three scoreless innings against the Boston Red Sox when he was 59.
Issued July 6, 2000
.
Hurston
is a writer known for such works as the novel
Their Eyes Were Watching God.
In addition to writing fiction, Hurston was a journalist, folklorist and playwright.
Issued January 24, 2003
Anderson
was the Chief Flight Instructor for the famed Tuskegee Airmen in World War II.
Issued March 14, 2013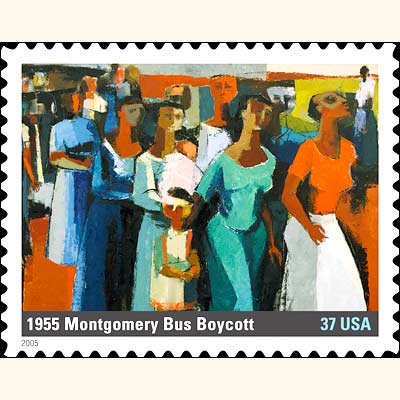 You can learn more about the Boycott
here
and Rosa Parks
here
.
Issued February 4, 2013
You can find out the fascinating story of the Gee's Bend quilters here.
Issued August 24, 2006