Recently my brother Richard & I took one of our jaunts through Alabama and family history via a road trip to places significant in our parents' and ancestors' lives. On this particular trip we visited Brundidge, Camp Hill, Tallassee and more; I'll be writing blog posts about all of them. The series begins with some photos and notes about Smuteye in Bullock County.
First, a map. Here's a detail from an Alabama Highway Department map of Bullock County in 1937. In the southeast corner you can see Smut Eye and indications of several buildings and churches. In the northwest corner note the community of Aberfoil; I'll be doing a blog post related to that place as well. Both of these locations are south of the county seat of Union Springs. At the bottom of this post you'll find a detail from a 2006 highway department map. "Smut Eye" has become "Smuteye".
You can find a web site about the Smuteye community
here
. A page on that site gives
history
of the area and the story of the name's possible origin. The site also reprints a
1999 story
from the Montgomery Advertiser about the origins of many of Alabama's strange place names. Available elsewhere are similar stories from 2012 by
Beverly Crider
and one from 2014 by
Kelly Kazek. Leada Gore also published one in August 2015.
Smuteye has a Wikipedia
page
.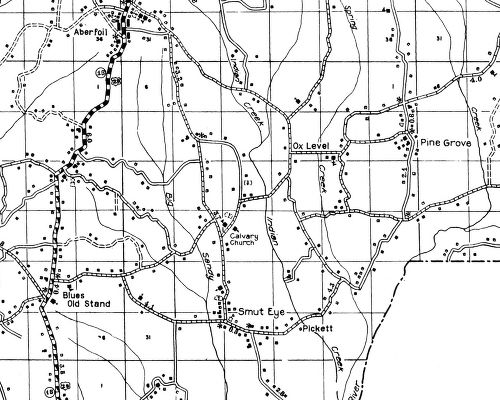 We found this business in Smuteye, but it wasn't open in the middle of a Saturday afternoon in July. Just to the right, however, was the meat smoker, which was obviously hard at work.

Here are photos of the front and side of the Phillips family grocery in Smuteye. The community history linked above gives information about the family's ownership.

Look closely at this white sign, and you can make out "SMUTEYE GRO".

We couldn't tell how long the sign had been in place, but the house behind it is obviously pretty old.